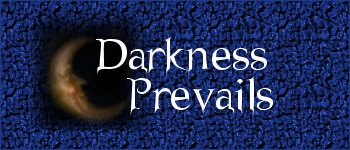 This is where we except all "original" poetry, prose, short fiction, fan-fictions, etc. that you would like to have posted and share with others. If you're into writing and want a place to share with others the dark, strange, mystical, thoughts and workings of your mind, please send it to Iya and it will be posted here as soon as possible. Or, if you are into wrestling, musicians, etc. and have a piece of fan-fiction you'd like to share, you may also send it in. Please include your Name or name in which you go by, and your e-mail address if you'd like to be contacted. So, if you ever feel like no one listens or understands you please feel welcome here with us.
Please Note: All work here is original and in order to respect the rights of it's author, please don't use or copy for your site or other purposes. Names have been included below the piece along with e-mail address so you may contact the author to get permission to reproduce and copy. Thank you for your respect and cooperation...Iya
Also: Some of the stories and poetry found here are of either graphic nature or inlcude swearing. Please be advised now, as this is your choice to read further, can't say I didn't warn you. Thanks

~Poetry~
Misc. Poetry by Mistress Iya

Dedicated to dEd puppEt Not really poetry but a section that's decicated to a very special person in my life.

Prose

Fan-Fiction
Please note: If you so choose to send in fan-fiction of any topic, please do the following for me.
All fan-fiction that is sent, please put in word doc. and attatch to an e-mail. It's easier to copy and put up, I'll get your stories up faster that way.
Pleasee spell check your stories and make sure that appropriate spacing, grammer, and punctuation is used throughout.
Please inlcude any warnings, if you use real names, grahpic sex, etc.
I only say this so it's easier to enjoy your stories, please feel free to submit any stories of any topic related to this site.
Finally, I do have the right to return and not post any stories that I see not fit for any reason. If the reason is concerning spelling, grammer, or punct. I will return it to you for revising.
Thank you for your cooperation and keep on sending 'em!
~Wrestling Related~
Undertaker/ Kane
Written By Mistress Iya
In the Hands of Death
---
Written By Lady_Shyann
Destiny
---
Written By Takersangel
Night of Passion
Can't Fight This Feeling

Written By Lynn
Heartache
Webmistress: Iya AIM Name: Iya797 ICQ #: 47092454 E-Mail: Unitedindarkness@yahoo.com MSN Messanger: Iya_@hotmail.com This site is a non-profit site run by a fan of both wrestler and musicians. No infringement was inteneded. Copyright for script of this site Iya2001